How Old is Too Old to Trick-or-Treat?
Halloween is a holiday that brings joy to many, but more specifically trick or treating is something that every child looks forward to each year. The freedom to dress up as their favorite character or biggest role model. The question is, when is someone too old to trick or treat?
"I don't believe that you are ever too old to trick or treat and there is no changing my answer. As long as you still feel the want to go trick or treating and dress up then you are the right age to trick or treat," said Maija Crosby '22.
 I agree that there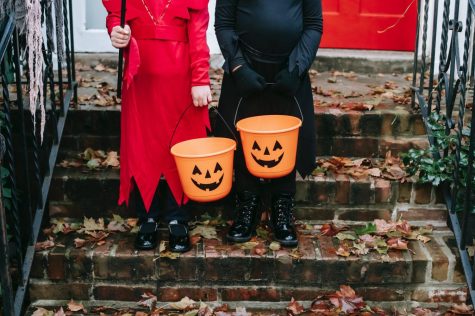 isn't a cut off on an age to trick or treat but I do think that there is an age where it becomes a less important part of Halloween.
"I believe that 12 years old is the age that is too old to trick or treat because that's when most people stop to," said Daniel Harlow '22.
"Also as you start moving into high school stu
dents start to throw Halloween parties with their friends or go to different things like apple orchards or haunted houses," said Harlow.
 From middle school on the amount of students who went trick or treating dropped off rapidly. Many students would rather spend time watching horror movies or celebrating Halloween with their friends. Others spend time with their families and would rather watch their younger siblings get ready to trick or treat.
Another concern of me when it comes to your age of trick or treating is how it affects the experience for younger children.
"16, after this, you should let people younger than you have a better opportunity to get the candy," said Xavier Prentice-Sao '22. 
This was a concern of Prentice-Sao as well. As someone who is 16 years or older, you are able to go to different neighborhoods and collect much more candy than someone in elementary school. By going to all of the houses in your city, especially if you're in big groups, may affect the number of children the houses are able to hand out candy to.
On the other hand, a lot of people lose the excitement for Halloween when they start reaching middle school.
"I think past about 6th grade is too old because I feel like at that point the magic of trick or treating kind of wears off," said Maddie Jeffreys '22. 
Jeffreys agreed that as she got older the excitement that came from dressing up as her favorite character started to wear off. This is a key component of what age is too old. It isn't necessarily about age but rather about your mindset towards trick or treating.
It's all about confidence and if you feel confident dressing up for Halloween and it brings you happiness then you should absolutely do it. Altogether, no one is too old to trick or treat, and it's all about embracing the holiday and having fun with your friends.