Too Much Blood!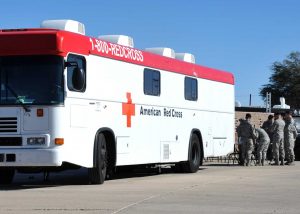 Julia Galovan, Staff Writer
Blood trailing through an IV tube, brave students volunteers, and a strong community of the American Red cross employees caring for each and every patient. These are all sights that could be seen at Plainwell High School's mobile blood drives which were conducted three times per school year. But, this tradition will no longer be present after Plainwell High Schools' final blood drive on Nov. 1st.
The American Red Cross has announced that it is limiting the mobile blood drives in the Great Lakes Blood Service Region, which includes the Kalamazoo and Grand Rapids region and many surrounding areas in Michigan.
Mobile blood drives have been limited by the American Red Cross Association because they are experiencing a surplus of blood due to its lacking demand. Therefore, the association would like to focus their time and energy on other areas. This meant choosing to cut mobile blood drives within the Great Lakes Region.
¨We really did not expect anything like this to happen. We expected the need for blood to trump, no matter what was going on,¨ said mobile unit assistant Todd Dibble in a Wood TV interview.
Although the termination of our Red Cross mobile blood drives will no longer allow students to donate blood at school, losses on the business' side are even greater. Over 200 employees are expected to lose their jobs. Employees whose jobs are on the line will continue collecting blood until November and then will be forced to find a new position.
"I was surprised, but I knew that they have had strikes and issues with management before," said teacher Andrew Hansen with his initial reaction to the news.
"Even then, I would still choose them over Michigan Blood," Hansen said.
Michigan Blood is a alternative blood donation association that conducts 3,700 blood drives per year. In the future, Plainwell would still be interested in having mobile blood drives, possibly through Michigan Blood.
Yet the future of the Red Cross Club (students who help volunteer during blood drives and participate in community service projects) still remains in question.
"We would probably have to change our name to something like Blood Club or Michigan Blood Club," Hansen said, all depending on whether they choose to work with Michigan Blood in the future for blood drives.
"We would have a different name and different group coming in to take blood," Hansen said.
After saying goodbye to the Red Cross Mobile Drives, Red Cross members reflect on participating in the blood drives.
"I'll miss helping people the most. The people that did come down and give blood were making a difference in someone's life," Alex Gabala '20 said.
"Red Cross has made me more aware of my community and what programs are available," Gabala said.
¨You do a lot of community service which has definitely affected me; it's always a nice feeling when taking a couple of hours out of your day can help someone else.¨ Delaney Lentz '19 said.
As for the future, the Red Cross Club may undergo a name change but the infrastructure and drive to help the community won't change a bit.