Plainwell graduate Jack Conklin named to NFL Pro Bowl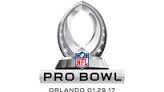 By Alex Brown, staff writer
Standing out among the elite of one's sport is a challenge for any athlete. Plainwell alumnus Jack Conklin has been doing just that, making the American Football Conference pro bowl team, and allowing only two sacks in his entire rookie season in the NFL playing right tackle for the Tennessee Titans.
"People complained I moved Jack up only because he was my son, turns out he's a pretty good football player," said his father Darren Conklin. "Out of any athlete I've ever coached, and I've coached a lot of them, I've never been as tough on a kid as I was on Jack."
Conklin had to make adjustments from football at a collegiate level to a professional one.
"Just understanding how much you have to prepare, just how much goes into each week. The NFL is a different game." said Conklin to TitansOnline.com
Not being a major standout throughout high school, Conklin only received a few Division 3 school offers, he wasn't satisfied. Conklin and his father, Darren Conklin visited many schools, but  knew he was better. Conklin eventually visited Michigan State where he was offered a walk on.
Conklin started 13 games his redshirt season. His sophomore season at Michigan State, he was named Second-team All-Big Ten selection. His junior season he was named All American, shortly after, Jack decided that he was going to declare for the 2016 NFL Draft.
Conklin began his journey on his own as the no. 8 Draft Pick in the NFl in 2016.
I learned a lot in eight months. To be on my own, paying bills, and playing in the NFL. So much has happened. I got here in May, and it's January. It all seemed so daunting at first, but it seems like it flew by." said Conklin to TitansOnline.com
Conklin, in fact, finished the season as a Pro Football Focus' highest-graded right tackle. He was named to PFF's first-team All-Pro squad after allowing just two sacks all season.
Conklin is scheduled to play in his 1st Pro Bowl in Orlando later this month.
" I think he deserves to go to the pro Bowl this year," according to TitansOnline.com.
"The biggest compliment you can give in football is consistency, and Jack is jack every single time and he plays at a level that rookies don't play at all." said to TitansOnline.com
Conklin believes his future is looking bright.
"I learned a lot this year, but I think I still have a lot ahead of me," he said to TitansOnline.com.