Testosterone Wrap Up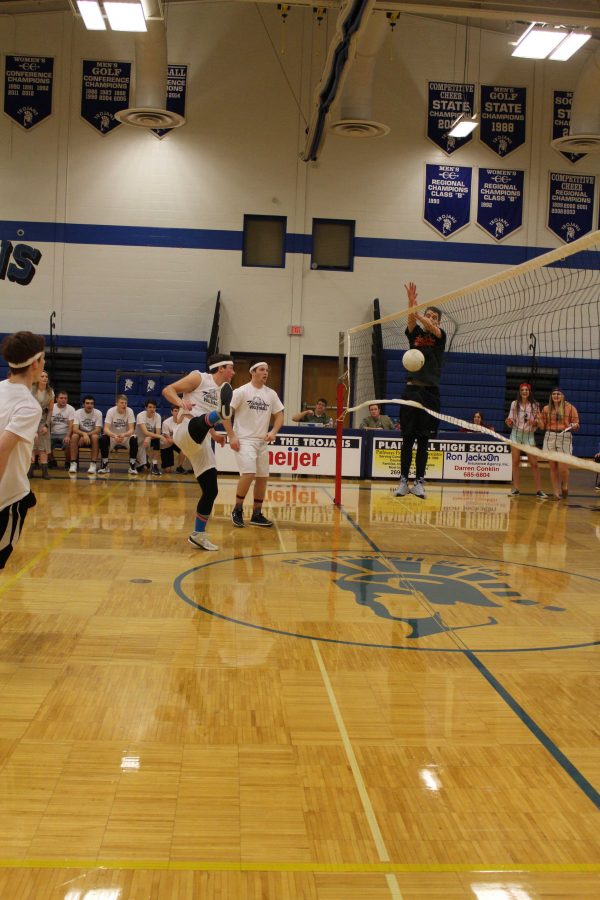 By Jessica Steffey
A slideshow with pictures of the game can be found here
Excitement was in the air as the junior and senior Testosterone volleyball coaches lined up on the sideline with their team waiting for the game to begin.
Testosterone is the annual Snowcoming event where guys take to the volleyball court in the annual fight between the upper class grades.
The boys are coached by girls from the volleyball team.
Allison Zyzelewski '16, Tricia Kelly '16, Mackenzie Opel '16 and Amber Tank '16 served as coaches for the seniors, and Jenna Steele '17, Sophie Monroe '17, Abby Deal '17, and Mia Parker '17 led the juniors.
Once the first game began juniors started taking the lead and it seemed that they were going to take the whole game,  but the seniors wouldn't stand for that. After falling about four points behind, they made a come back and took the game.
Seniors also took the second game. This time leading the juniors from the beginning and never letting up.
However, they couldn't hold it together to shut out the juniors.
In the third game, seniors began slacking due to their confidence from the first two games. Juniors then stepped up their game and held the lead all the way up to the end with a winning score of 25 to 16.
Game four was another heated game for both teams. The juniors took the win with a score of 25 to 20.
This left it to game five as a tiebreaker game to settle it all.
For the final tie breaking game the two teams only play until a team reaches 15 points.
It was a very intense and close game, everybody was on the edge of their seats. With the seniors taking the lead from the start.
On their 14th point the seniors scored an 'ace' and lifted their shirts to show the word written on their stomachs.
An ace is a volleyball term where the ball was served over the net but not returned back.
In the end the seniors took the whole game with a final score of 15 to 10, making the final record three to two.