National Honor Society Induction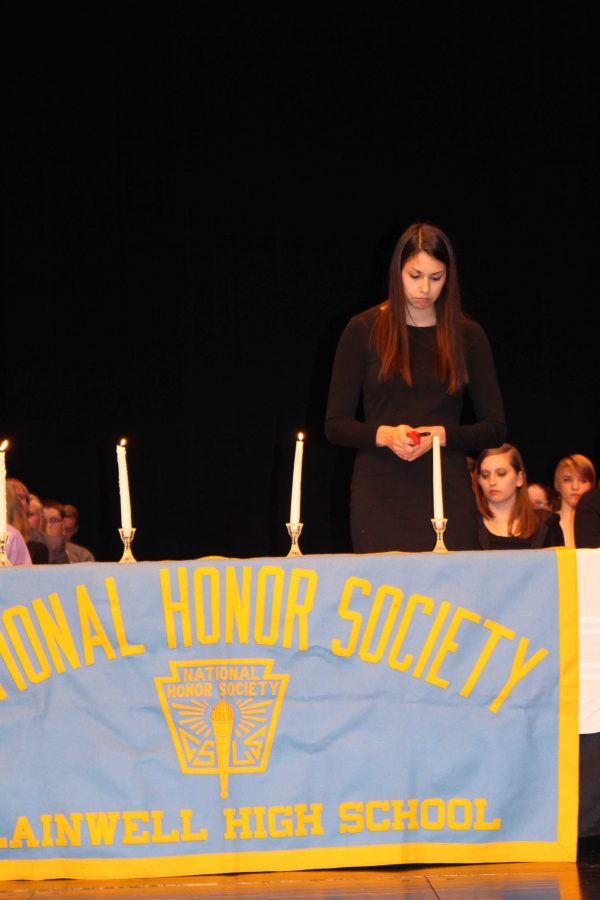 By Josh Rumsey
The auditorium was filled with silence. Nervous smiles were cracking, and the mix of joy and excitement were among each and every student. Everyone was anxiously waiting for their turn to be under the spotlight; to shake principal Jeremy Wright's hand and receive a coveted certificate.  
It was a night to remember. The nerve and excitement of the students were overwhelming, as they were about to take on a new level of responsibility. Proud parents, grandparents, and friends alike were there to cheer on the newest members of the National Honors Society.
It is a great accomplishment to be accepted among one of the ranks of NHS.
"I love the privilege of being in NHS, and being in it with other intelligent people. It's honoring," says Tyler Nobel '16, a student inducted last year.
Although it is a feat to be proud of, there's a little more to it than just being accepted. Students are expected to uphold the main pillars of responsibility that stands for NHS: Character, Scholarship, Leadership, and Service.
At the ceremony, the class officers lit a candle for each pillar of responsibility. This has been an annual tradition ever since the early 1920's, when the Dwight B. Waldo Chapter of the National Honors Society was established.
Many students have been planning on joining NHS ever since they've been informed about it.
"Ever since my sister joined, I wanted to join too," said Shelby Guarino '17. "It's good for colleges because of how impressive it is on a resume."
However, many students haven't had it easy. Some of the new inductees had to work hard to meet the standards of being inducted.
"I never thought I'd get into NHS," states Megan Preston '17, "I improved my grades tremendously in the last couple years. This is a really big accomplishment for me."
Parents and Scholars alike are proud of the new inductees. Mr. Hansen and Mrs. Breitenbach have the pleasure to advise this organization. Many parents also share involvement in setting up community service opportunities, as well as encouraging their children to succeed.
"NHS was around when I was in highschool," says Rebecca Warren, Guarino's Mother. "It was still a great achievement then, and our school's most intelligent students were members. I'm very proud of Shelby for joining; she spends a lot of time working hard on her schoolwork."
But above all, Principal Jeremy Wright was the most proud.
"This Is my favorite thing to do in all of the school year," States Wright. "It's honorable to recognize excellence and scholarship to a group of hardworking students. I'm proud of each and every one of them."
It's great to see our students excited about success and and honor. Organizations like these are most popular for the leaders they produce, and how that impacts theirs and other's future.
It will be exciting to see what directions these new students take in making a difference in society. As Ghandi once said, "Be the change you wish to see in the world."