Life After the Lines; Profile of a Lunch Lady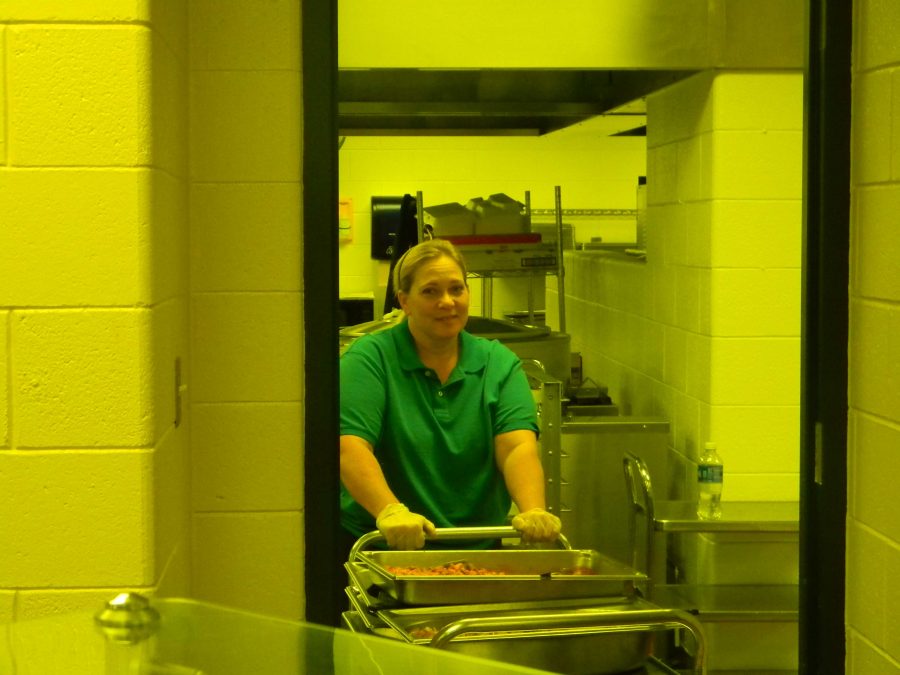 By Katie Ristau
The responsibility to keep all of Plainwell Schools' students and teachers fueled for learning falls directly on Michele Smith and her close knit group of coworkers.
Smith quickly learned the life of a lunch lady came with many more responsibilities than what she had thought.
Beginning her work day at 6 am, Smith is in charge of making breakfast for the high school students. Smith is also in charge of the morning dishes along with  making the pizzas for lunch and the subs by individual order everyday.
Along with food for the high school, Smith and her co-workers fill food carts for every elementary in Plainwell and the Middle School.  
Smith originally became interested in being a lunch lady because of the convenient hours it offered. Having two elementary children, Smith wanted a job that allowed her to be home in the morning and afternoon with her kids.
Smith explained how she hadn't realize how physically demanding the job would be. Twice a week when the freezer trucks come she lifts boxes upon boxes of food weighing up to 45 lbs. She also was surprised with how many burns, from the ovens, she has accumulated over the 13 years of working here.  
Between such early mornings and the heavy lifting, one would wonder how Smith stays so cheerful and eager to serve students everyday.
"The coworkers I work with make it worth it. We make everyday fun by laughing and staying positive," said Smith.
They even play pranks, like planting fake spiders to scare each other, to keep the mood light and playful.
Smith recounts her favorite memory from working here was a Halloween her and her coworkers dressed as punk rockers for the day.
Smith gets out of work at 12:30 in the afternoon, leaving her plenty of time to complete errands and enjoy her afternoon. Smith's favorite thing to do when she gets home is reading a good book or her devotions. Smith also loves her daily naps.
She has two 8-year-old dogs named Beevo and Ginger. Her three children are moved out of the house and completing their college educations and one is finishing up her cosmopolity degree. After cooking all day for work, Smith says that she really can't bring herself to enjoying cooking for her family at home.
Smith and her co-workers leave such a positive impact on the persons at Plainwell that even those who do not buy lunch from the school have something positive to say about the service. Teacher Brian Huberty revealed that even though he rarely gets lunch from the school cafeteria, he loves the lunch ladies and thinks their job is extremely under appreciated by other staff and by students.  
"Michele has a lot of good strengths. It's hard to pick just one. "She is a hard worker, always arriving on time. Her personality makes her a lot of fun to be around and work with," stated a coworker of Michele's, Tanya Griffioen.
Carlee Keim '16 has some specific observations about Smith, "She is super nice and always makes my subs perfect!" Keim also loves the pizzas which happen to be exactly what Smith makes.
Keim might not have had anything negative to say about the cafeteria food but this is not the case with many students at Plainwell. Many students complain about the taste and say they deserve better.
As a reply to those complaints, Smith simply says, "What many kids don't realize is that we don't make the menu, we just make the food the government tells us we have to make. If we could bring back the regular cookies and fries we would but it's not up to us."
Smith had some closing words she wishes every high schooler would hear. "Never sell yourself short, don't ever give up on yourself or things you really want. Also, respect your elders!"