A Look at the new In-house Coordinator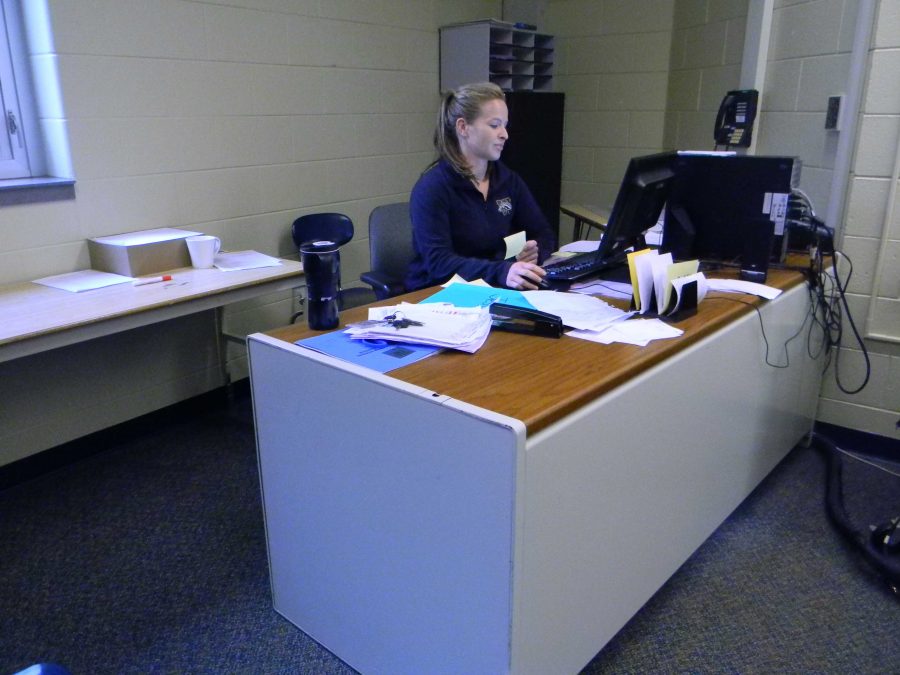 By Quinn Newland
In-school-suspension has become synonymous with "spa day"; a time to blast through your school work, play on your phone, and watch cute cat videos on the internet. Until now, that is. Jessica McCall, the new disciplinary teacher for the year, has big plans to make sure it's finally a place no one wants to wind up.
After graduating from Martin Public Schools, McCall started basic training for the Air Force in 2001. When she finished, she chose to complete a 10-week tech school and join the Security Forces, which is the military police branch for the Air Force. She never had any trouble, even though she says there was only an average of five girls to every 65 guys.
"I made a point of trying to be one of the guys," said McCall. She joked, burped, and worked along with them, and made sure she wasn't treated any differently.
In 2005, McCall left the Security Forces. She became a stay-at-home mom, taking care of her two children ages 5 and 9, while her husband worked for the Kalamazoo Police Department. Both children attend school at Starr Elementary.
Having 4 years of Security Forces under her wings, a familiarity with the district through her two young children, and a winning smile, McCall immediately drew administration's attention when she interviewed for the position after Montreu Baker left at the end of last year.
"I really liked that she was with the military police, and that she was already familiar with the school system," said assistant principal Debra Burley. So far she's been a very good fit, Burley said.
She's already starting to make big changes to the way discipline is handled in the school. McCall separated the in-house suspension room from the e2020 lab and moved it to an empty classroom with only one window to the outside world. "Eventually, there will be three laptops in here, but they'll all be turned towards me so I can see what they're being used for," said McCall.
She also seems to be able stand firm and hold students accountable more than the last few teachers that have come through, but she still remains very likable and friendly.
"People think she's hard, but she's actually really sweet. Still, she's like a bull, you don't want to catch her horns," said Alan White '16. Who has had the pleasure of her company while he served out an ISS from last school year. Mutual respect is very important to everyone, and that's what she seems to bring to this position.
"Ms. Burley and I are just working on making the policies stricter, without saying too much,"says McCall.
"I asked her to look into what other schools were doing and we're just working on making the policies better," said Burley. They're going to turn Plainwell into a well oiled machine, even if they have to do it cog by cog. Goodbye, cat videos!