Trump gets dumped by House Judiciary Committee
House Judiciary Committee votes to advance two articles of impeachment.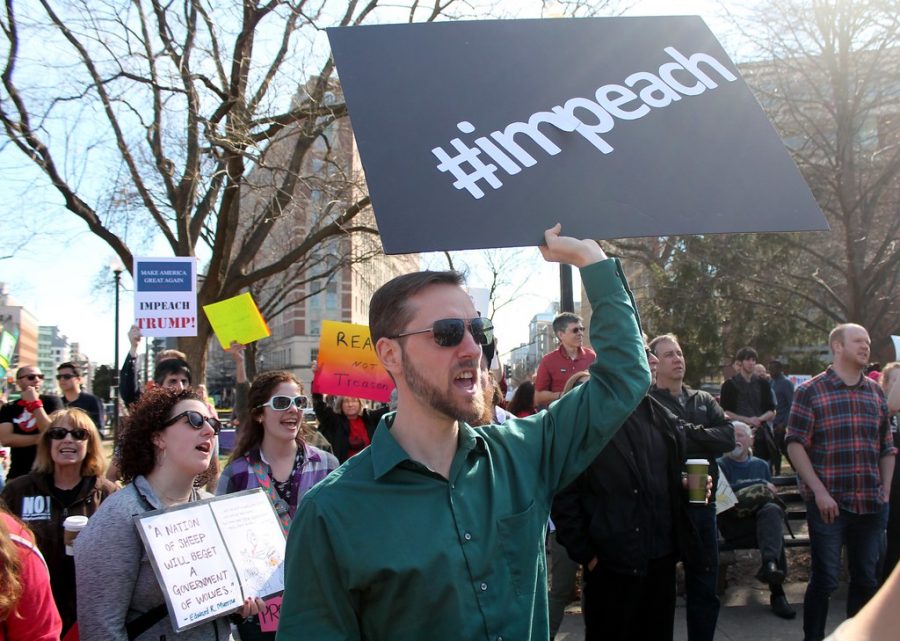 Arika Estree, Staff Writer
December 13, 2019
The House Judiciary committee is beginning weighing articles of impeachment for President Donald Trump, which consist of accusations of abuse of power and obstruction of congress. 
Trump will be the fourth U.S. president to face this kind of sanction for misconduct in office. 
It is said that Trump tried to illegally give leverage to military aid, which was sought by Ukraine to combat Russia's aggression towards the United States. 
Trump offered a Quid-Pro-Quo, which is political terms for "favor for a favor," to Ukraine in order to investigate 2020 presidential candidate Joe Biden's son, Hunter Biden's, work in Ukraine, in order for Trump to refrain from withholding military funds.
Allegedly, Trump is currently still withholding funds.  
This alleged act by Trump is an illegal abuse of power, which, if found guilty and impeached, would mean he could no longer run in the 2020 presidential election.
Senate Minority Leader, Charles Schumer, doesn't give away much detail, but mentions to reporters that the House of Representatives has a good case for filing impeachment on Trump. 
Members of the House have also allegedly questioned why Trump refuses to involve himself nor speak on the fact that people want him impeached. 
Another thing members of the House and just people following the impeachment process in general have noticed is the fact that Trump doesn't allow witnesses to testify against him, nor does he try to defend himself whatsoever, which looks sketchy to people keeping updated. 
The only thing Trump seems to do with addressing whats going on is by retweets. He retweets things consistently dealing with people on twitter ensuring his 100 percent innocence. 
Trump also tends to retweet things talking negatively about the democratic party when it comes to people wanting him impeached. 
As of December 13th, The papers have been filed for impeachment and are currently in the process of being verified. 
In order for Trump to be officially removed from office, 67 members of the house would need to vote on it, which would be improbable seeing as 53 members are republican. 
The White House released a statement on the impeachment vote, saying it was a "desperate charade of an impeachment inquiry."
One of the major questions people want to know is, if Trump becomes officially impeached, will he be able to run for President of the United Sates in the upcoming 2020 election?
The answer to that question remains unanswered. That would be a case that the Supreme Court would have to deal with, since there has never been a case like this before in the history of all presidents.
Because an impeached president has never attempted to run again, there are no laws saying one can or cannot, so this case will establish a precedent for future situations with similar circumstances. 
Everyone in the White House has different opinions on what has happened, some think Trump is a good president, and some don't. But the votes are really what matters on his behalf.