Music Review: Danny Brown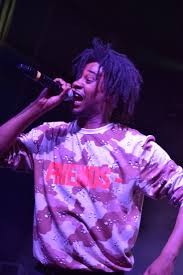 Danny Brown, legendary goofball and Detroit rapper. Notable for his high pitched lunatic voice and his manic delivery, he is back after a three year hiatus from his last album, Atrocity Exhibition. Easily one of the most distinct and off-the-wall records of the decade. However, uknowwhatimsayin¿ takes a lighter approach with the beats Brown hops on top of with production directed by Q-Tip . 
Being that he blew up as a rapper late in his thirties, far later than any of his contemporaries, he spends a few tracks reflecting on his life and how far he's come. On the track Best Life, Danny raps over a jazzy sample and a bubbly synth. Speaking on his rough upbringing to living a full life that he is satisfied with, proclaiming on the chorus "Cause ain't no next life, so now I'm tryna live my best life." The song is a complete 180 to any of Danny's previous work.
On the track Belly of the Beast, Nigeria-born, UK-based singer Obongjayar appears on the track and gives smokey vocals that fits perfectly over the sinisterly freezing beat. Danny's hilariously outlandish lyricism shows in full force with lines such as "I'm anemic with the ink, you a Stevie Wonder blink. You're illiterate, ya Bisquick soft. I pulled the biscuit then you dipped like cocktail sauce." 
The closing track features production from Q-Tip. With a choppy horn sample and a surprise feature from New York rapper Consequence. Brown tones down his tone and delivery on this track, his voice isn't as nasally and as in your face as it is on other tracks. While a good track in itself, as the closing finish it leaves more to be desired, but he still proves to be the poetic legend that he's shown himself to be for the past decade.
At only 11 songs and 34 minutes, the album flies by very quickly from start to finish. Give this album a listen with an open mind. For most people, Brown's voice is a major turn off from his music, but don't let that stop you.
7.5 abandoned Detroit homes / 10