Triple EEE makes an impact at PHS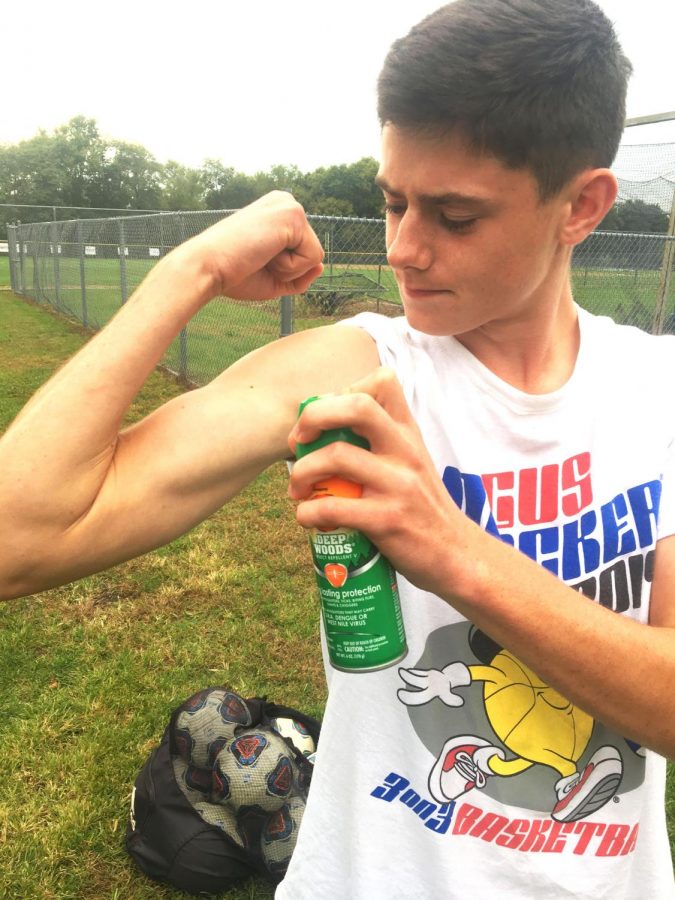 Lexi Healy, Staff Writer
October 9, 2019
Eastern Equine Encephalitis, also known as 'EEE' or 'Triple E', is a very deadly mosquito-borne virus that has been reported affecting people all over Michigan.
The virus can affect anyone, but people under the age of 15 and over the age of 50 are more likely to get the more severe form of EEE.
As of the beginning of this month, there were nine cases of EEE in humans with four fatalities in Barry, Berrien, Calhoun, Cass, Kalamazoo and Van Buren counties, according to the Michigan Department of Health and Human Services. 
In addition, EEE cases have been confirmed in 33 animals from the following 15 counties: Allegan, Barry, Berrien, Calhoun, Cass, Genesee, Jackson, Kalamazoo, Kent, Lapeer, Livingston, Montcalm, Newaygo, St. Joseph and Van Buren.
Symptoms
Symptoms often occur after four to 10 days after getting bitten by an infected mosquito, according to the Center for Disease Control and Prevention (CDC). The infection can be either systemic or encephalitic, which involves the swelling of the brain. 
Commonly EEE causes flu like symptoms. Some people who contract EEE don't even experience symptoms. 
Only 4-5 percent of people will become sick when infected with EEE.  The illness may last up to two weeks. In most cases people recover completely, but fatigue and weakness can last for weeks or months. 
As of the beginning of October, only four people have died from being infected with EEE.
Prevention
The only way to prevent Triple E is to avoid being bitten by an infected mosquito.  
Wearing bug spray that includes the ingredient DEET, wearing long-sleeved shirts and long pants when outdoors, maintaining window and door screening, and empty water from mosquito breeding sites all are ways to prevent being bitten. Sadly, there is no vaccine for EEE.
How is it Affecting us as a School?
Plainwell Community Schools Superintendent Matthew Montange sent out an informative paper to parents and guardians regarding the affects, symptoms, prevention, and concerns of EEE.
"Plainwell Community Schools has already taken steps to begin outdoor events and activities earlier in the day and to keep students away from our nature areas," said Montange in the September letter. 
Since the administration pushed back practices, games and rehearsals, there have been many complaints from students and athletes.
"I think it's a little ridiculous, I will not lie. For how many cases I've seen of it and considering that I've never seen a mosquito ever at any football game, before or after or playing or being there in the stands. So I really think it's blown out of proportion and it takes a lot of the energy away because a lot of people can't make it to those games, including parents, and it shouldn't be a thing," said Varsity football player Bryce Marshall '20. 
Many students such as Senior Kaitlin Jezdimir agree with Marshall's opinion.
"…It's too much..," Jezdimir '20 said.  While referring to changing the start times, even though she does understand that the administration wants to keep everyone safe.
Other students and athletes think that it's a good idea that they changed to an earlier time. 
"As a cheerleader I appreciate it because I definitely don't wanna get it. It's weird that it's still light when the game is ending, and getting out when a game is supposed to start, but I think it's a good idea that they are taking good precautions," said Alaysha McCarter '20, who is on the varsity sideline cheer team.
"I like [the practices and games being pushed back] because it lets me get home earlier to do homework and we got out of school for two away games in one week," varsity soccer player Mason Mollitor '21 said.
Aerial Spraying
Aerial spraying of pesticides began at the end of September in Allegan, Kalamazoo, and area counties, and continued for about a week due to rainy weather postponement. 
Low-flying aircraft applied an organic pesticide called Merus 3.0, which contains 5 percent pyrethrin. Pyrethrins are chemicals found naturally in some chrysanthemum flowers. They are a mixture of six chemicals that are toxic to insects. 
The pesticides were applied with an ultra-low-volume spray, which dispenses fine aerosol droplets that stay suspended in the air and kill adult mosquitoes on contact. 
The pyrethrins are commonly used to control mosquitoes, fleas, flies, moths, ants and many other pests and have been registered for use in pesticides since the 1950s. 
Aerial spraying is not expected to have any impact on surface water or drinking water, and the spraying is to take place in the nighttime hours, when mosquitoes are more active and when fish are less likely to be surface feeding and honeybees are likely to be in their hives. 
Until the first hard frost, people that live in affected counties should be cautious.