The Story of Alex English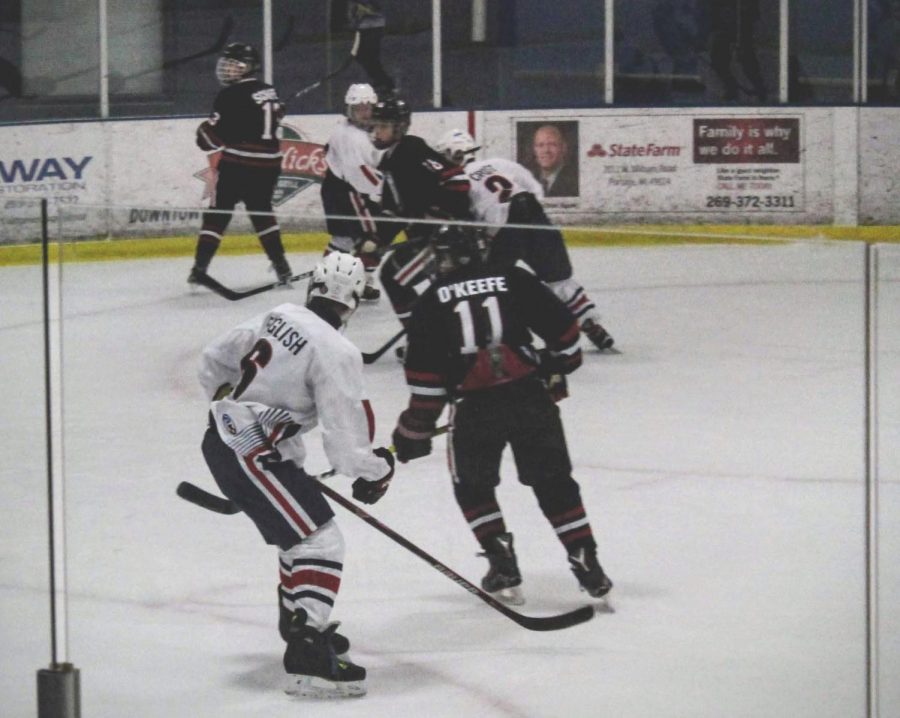 Taylor Kohns, Staff Writer
February 15, 2019
Most 6-year-olds are learning how to write their name and making masterpieces out of Play-dough. But that was when Alex English '22 started playing hockey, which he continues to do today.
Of course, back then he liked getting penalties so he could sit in the quiet of the penalty box.
Today he plays travel hockey for K-Wings, and his coach and teammates wouldn't be too happy if he deliberately got penalties.
Back then it used to be three nights of activities a week, whether it was Boy Scouts, T-ball, or hockey. Now that English has joined travel hockey it has become five nights of activity a week. On practice days alone it takes up about four hours, including driving there and back, as well as suiting up.  "It takes up 5-10 hours on game days, sometimes it eats the entire day," said Amanda English, Alex's mom. Despite this, English still practices at home as well; puck handling and shooting for one to two hours a week.
Though this "fun-loving, giant goof" according to Maddison Mallory '22, can be rather preoccupied with his busy schedule, he still manages to keep up friendships.
"He's always there, and always checks up on me. He is all in all, a great person, and a hardworking individual," said Emma Stempien '22.
"He is always joking around, and knows how to make people smile when they need it most," said Mallory. When the people he cares about need to find comfort in a friend, it appears English will do his best to be there for them.  
His observational skills aren't just good for helping his friends, but useful on the ice too. One thing that English is especially good at is paying attention to the location of his opponents, and anticipating where they are going.
"Alex can visualize the plays before they happen, he is somehow always in position to get the puck," said Paul English, Alex's dad. Paul English used to wonder why his son is in that position, thinking that's the wrong place to be, only to be proven wrong by the puck flying right towards him. Since then Paul English has learned not to question English's stance.
English is currently working on carrying the puck. Traveling with the puck is a lot of pressure, but you can't let the fear of making a mistake stop you: "I have to trust myself to take action," said English. Even though there is other things he needs help in, he feels working on this might be more beneficial towards the team.
What English loves most about hockey is that he can continue to get better at it."He is never satisfied with the point he's at, he always needs to be better" said Paul English. This attribute of perseverance is what really helps him improve. Not letting his mistakes or lost games affect his tenacity or his kind spirit.