Students return to the classroom
The Update:
After several long months of virtual school, Plainwell High School is finally ready to begin bringing students back.  This will be done in a tiered manner, culminating in most students returning to a 4-day a week schedule for third trimester.
On Feb. 8, students who were failing two or more classes returned to school four days a week for in-person learning. 
Then, last week,  students who are failing one or more classes were encouraged or permitted to return depending upon availability. 
Next, this week, any student that would like to attend. Finally, on March 1, per the Governor recommendation and school board vote, the four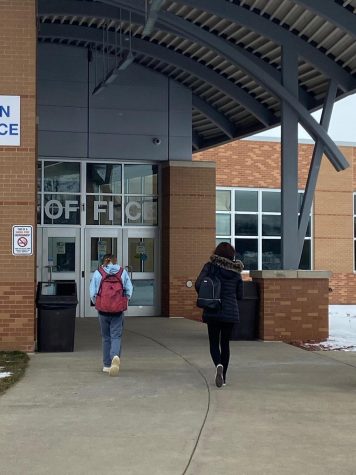 -days-a-week schedule will begin. That corresponds to our finals week, so those will be in person.
"Personally the best plan is to have everybody back without restrictions. We need to focus on failure rate and this is the way to do it. I am looking forward to it," said Principal Jeremy Wright.
 He expressed excitement on behalf of the staff for students to return to in person learning.  
Though this plan has the best interest of students in mind, many students and parents argue that it is unfair and punishes students that are passing and want to return to school. 
"I understand why kids that are failing are going back first, but I do still consider it unfair. Some of us might not be failing but still need that in person connection to do our best in school," said Katie Groaner '21.
"Unfortunately none of this has been fair, and there are not good answers or solutions that meet the needs of everyone," Superintendent Matt Montange said. 
Montange also mentioned the difficulties in finding a plan that complied with guidelines set out by the Allegan County Health Department/Centers for Disease Control/Michigan Department of Health and Human Services. However, he made clear his confidence and support in the Return to School Plan. 
Returning to school will benefit students through face to face, in person, instruction, social interaction with peers, more structure in their days, and more chances to receive one on one help.  
The Opinion:
The return to school will not be an easy task, as some kids are really enjoying online classes as some aren't enjoying them as much. Personally, I am enjoying online classes as they allow me to get more help one on one than if I have to rush to my next class with no real study hall time. It also allows me to get ahead and have more of a chance to catch up with work if I have fallen behind. The return to school in person isn't as beneficial for me and others like me. 
Logan Briggs '21 has strong feelings about the impending return "I feel the return policy needs to be all or nothing you can't have online and in person; the education is too split," Briggs said.
He feels as though the teachers focus to education is too widespread, if there are kids who may not be paying attention at home and kids in person who are getting more help.
I personally feel that with online schooling it is much easier to keep track of and stay on top of all my work. It is also easier for me to make up missing work.
 As the senioritis starts to kick in, Senior Amaya Gonzalez '21 said, "I've gotten so used to online school and we're graduating soon anyways, so I'd rather just finish at home." 
Plainwell is set to begin in person learning March 8, but it would be better if we didn't.