M-89 Steps Up Their Food Game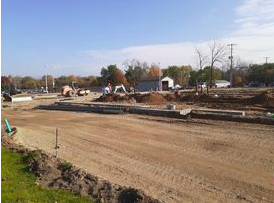 The M-89 strip doesn't have many places to eat compared to other nearby main roads like West Main and Stadium Drive. However, there are three confirmed restaurants coming to M-89 in the area of Wal-Mart and Meijer.
 In the Crossing Oaks strip mall, that includes the movie theater will be a B.C. Pizza. "B.C." stands for the best choice. The nearest location in Kalamazoo is ranked 4.9 stars on google. They serve dough items such as pizza and breadsticks. They also serve subs, pastas, and more. Their motto is "Hometown Homemade Gourmet." 
"I can't wait for a B.C. Pizza because I know a lot of people who will work there. It also has really good food and a buffet," said Jack Anderson '22.
Next up is Jersey Giant Subs, which is located near the Walgreens. Another Michigan- made restaurant that seems to blow competition out of the water according to many reviewers on google.The nearest location is ranked a 4.3 stars. They have a variety of different speciality subs with an average price of $8-9 for a half size or $14-16 for a full size.  Having this sandwich shop will add a choice for those who don't like Subway or Jimmy Johns. Their motto is "The biggest and best anywhere."
The last confirmed restaurant is a Starbucks. This is going to be located where the Chicken Coop used to be; the old restaurant has already been demolished and the heavy construction has begun on the coffee shop. Unconfirmed rumors abound about a QDoba also coming to the same space.
Starbucks is a very fast national coffee chain, and is  a highly rated place according to many Google reviews. It has many different options as far as coffee goes, along with other breakfast and lunch options. However it will cause some competition with a locally owned Island City Coffee down the road to the Dast. Down the road to the west is a Biggby that is favored by many. 
"I'm very excited about a Starbucks this close because I can get my morning wake there," said Riva Amaro '22. 
M-89 hasn't had any major changes recently;  but the addition of three new restaurants will offer more options for people sick of the same old food. As far as the old Chicken Coop, there is going to be one single unit: the Starbucks, and a three-unit store. As of right now the only confirmed store tenant is T-Moblie, according to the Otsego/Plainwell Chamber of Commerce. It has been rumored that there could be a Qdoba but that is not for certain.