The Notorious R.B.G.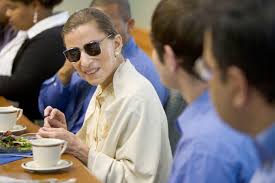 A few weeks ago, we lost what the world may call a feminist icon, Ruth Bader Ginsburg (RBG). The Supreme Court justice died in her Washington D.C. home surrounded by her family, from complications from metastatic cancer of the pancreas. 
Ginsburg served 27 years on the nation's highest court. She made it her life's mission to make sure that men and women were treated equally and received the same rights. When she was a justice she successfully fought against gender discrimination. She fought for equal voting rights as well as making it able for women to own land without a husband.  
Ginsburg was not only the second female justice but she was the first Jewish female justice as well. She co-founded the Women's Rights Project at the American Civil Liberties Union (ACLU), which participated in more than 300 gender discrimination cases. Ginsberg fought against the Virginia Military Institute's male-only admissions policy, saying that it 
violated the equal protection clause of the fourth amendment. 
She also fought for a women's say in abortion. She believed that the government had no say in what a woman is able to do with her body. She argued that the legislature was not trying to stop women from going through a painful procedure but was more just trying to control women's bodies. 
Now, with Ginsberg gone, many are asking what will happen with her seat. On her deathbed, Ginsburg dictated to her daughter, "My most fervent wish is that I will not be replaced until a new president is installed." President Donald Trump has gone against Ginsberg's wishes and nominated Amy Coney Barrett to fill RBG's empty seat. The hearings to approve her are going on this week.
 "He shouldn't have done it to respect her wishes, but as a president, he did it for his own personal gain which was a good move," said Maddie Almeguer '21.
With Ginsberg's passing, this gives Republicans the chance to tighten their grip on the court as conservatives now have a 6-3 majority. This has sparked some controversy as Barrett has a more Conservative view as opposed to Ginsberg's liberal view. 
"If Trump is so confident he'll win the election he doesn't need to rush filling the seat," said Chey Wiggins '21.  
Those who are far-right are praising Barrett's appointment for the same reasons that Democrats are upset about Trump appointing Barrett. Democrats fear that she will want to abolish abortion rights, which is something that Ginsberg fought for women to have. Some people argue that Barrett's religious views will pay too much of a toll on her political views. 
"I think that Trump made the right decision in appointing Barrett right after RBG's passing.  The seat needed to be filled as soon as possible," said Colin Macritchie '21. 
Regardless of the controversy after her death, her legacy will stand and be evident in our everyday lives for years to come.