Crossing state lines
Plainwell Women's Cross Country team qualifies for state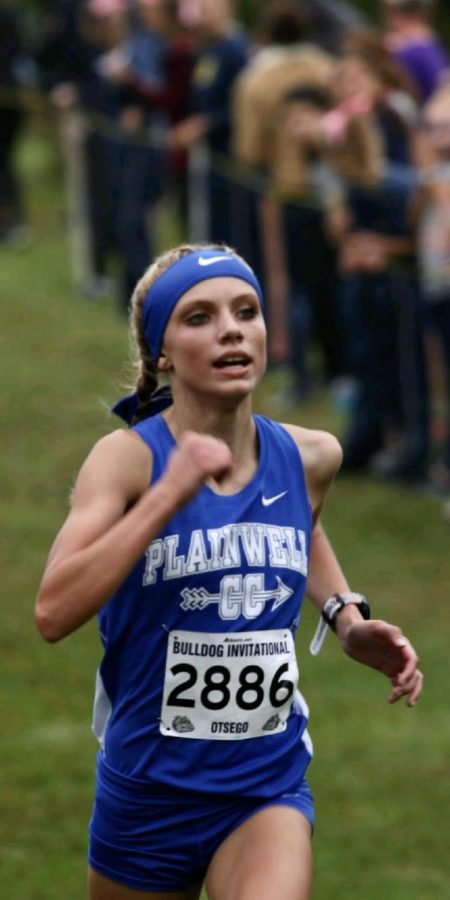 Morgan Try, Staff Writer
October 29, 2019
After many long years, the Plainwell girl's Cross Country team is finally going to state.  Seven years ago, in the fall of 2012, Plainwell's new college adviser Makenzie Evers led her PXC team, along with Haley Betts '15, Cara Minto '15, Rachel Buck '13, Oriana Benincasa '14, Olivia Harlow '16, and Cassidy Steele '15 at Division 2 Cross Country State Finals.
The girls ended up finishing number 23 in the state overall, and Evers finished as an all state runner, with an 11th place finish.
"Going to state was exciting because it was the first time in a very long time that the whole team went to state," said Evers.
With Evers now working as a counselor at the school she was thrown into nostalgia when the 2019 team made Finals.
"Seeing [the team] going to state again makes me miss running, and high school," said Evers.
Since the 2013 season, the Plainwell girls have not gone to state as a whole team. Until 2019 rolled around. This year's team has decided to make a change and push through to break the streak and qualify once again. And making state is no easy feat, it takes certain times, or qualifications, to make the cut.
"To qualify for state as a team, you must finish first through third at the regional meet. To qualify as an individual runner, you must finish in the top 15," said Makenna Veen '20. 
Although Plainwell has not been putting a team of their top seven runners on the starting line for some time, Plainwell has had a few girls who qualified for state as individual runners in the past.
Being good enough for the state meet means that there are no easy days, and workouts can be quite challenging.  
"The hardest workout this season was one kilometer hill repeats," said Veen. 
One kilometer repeats are roughly .6 miles, and often run on one of PXC's many hills, called Agony, repeatedly. 
The girls will be running at Michigan International Speedway in Brooklyn, Michigan on Nov. 2.  This year's varsity team consists of Makenna Veen '20, Kennedy Vanderlugt '20, Lydia Bacon '20, Mackenzie Hill '22, Morgan Try '22, Grace Ruimveld '22 and Grace Pettit '23.