Allegan Underground: Taqueria Tomatitos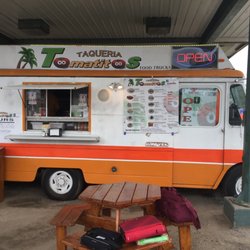 Olivia Barnhart, Staff Writer
February 21, 2019
Hang on for a minute...we're trying to find some more stories you might like.
Every Saturday and Sunday, students have the opportunity to eat at Plainwell's one and only food truck: Taqueria Tomatitos. This food location has become a weekend hot-spot for locals, offering an a delicious, cheap, and authentic mexican bite to eat.
My first experience at Taqueria Tomatitos was one snowy day when they were just starting to appear in Plainwell. I ordered one steak taco and one chicken taco along with an order of chips and guacamole. I was impressed by their salsa selection,  and how helpful the employee was with her suggestions.
While it was hard to hear over the loudness of the truck, I placed my order and the employee told me I could wait in my car to stay out of the cold. After about a 15 minute wait, she returned with my order in a to-go box and informed me she threw in an extra taco since I had to wait for a while. This excellent customer service motivated me to come back and I remember it every time I go there.
Taqueria Tomatitos offers many authentic mexican food options such as tacos, burritos, taquitos, and a variety of others. While guac is extra, their amazing recipe makes it a necessity for your meal!
Recently Taqueria Tomatitos has been stationed on weekends and during the week as well in the Third Base parking lot. Third base is a convenience store on the corner of where 10th St meets 106th Ave. While it is not known how long their schedule will remain this way, the authentic mexican cuisine offered is worth trying while you can!