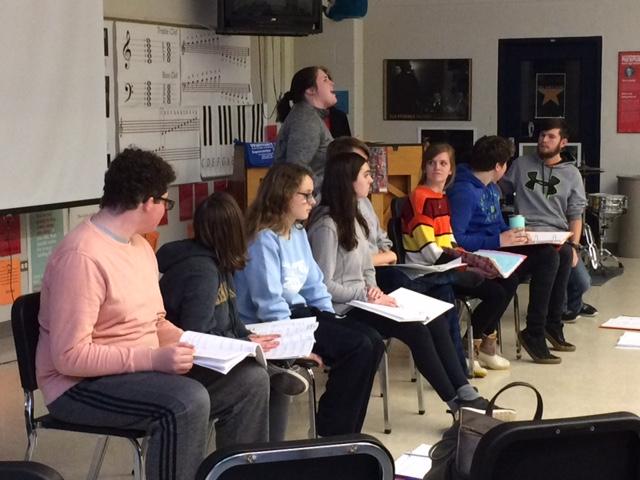 The Addams Family was a big hit. Many people have been saying it has been the best one that Plainwell High School has ever produced. The people in the cast feel the same as well.
" I liked it. I thought it was one of the better shows. My personal favorite because the atmosphere with the cast and the show in general," states Mary Bauman '18, who played Jan in the musical. Many said the funniest part of the musical was John Lee'19 voice cracks.
"John Lee's voice crack was hands down the funniest moment," states Jeremy Bolda '20, who played a gambler in the play.
The play came together because of the people and their work. With the pit orchestra, student actors, and dancers it became something bigger than ever imagined. The cast agreed that they will miss musical and the memories.
"I look forward to it and it's three month of hard work to just be over in one weekend," said Leah Brady '19, who played a lead principal dancer. The overall reason many people joined the musical cast was creating new friends and enjoy the love of music and their passions. Now that we have shown the inside scoops with the cast we can go now to the people who watch it from the audience live! So many people enjoyed it.
Three Plainwell High School students who watched the performance agreed that they enjoyed it. Erin Moore '19, Austin Williams '19, and Korrin Johnson '18 shared their favorite scene and characters.
"Seth was my favorite character because he fit his part perfectly. My favorite scene was full disclosure because it was interesting and had a lot going on which added suspense," states Williams, who watch in the audience. Coming in next for a favorite character was Trey Morris '19, who played Uncle Fester.                                                                                                                                                                                                                                                                                                                                                                                                                                                                                                                                                                                                                                      
"Trey was my favorite character because of his great singing and good enthusiasm. I loved the scene Move towards the darkness when his face popped up on the moon and when he ran around in the audience because he never runs. Tough love", said Erin Moore '19, who sat in the audience. Lastly, Korrin Johnson '18, who watched from the audience, voted Delaney Lentz '19 who played Morticia. Johnson states "She was the best character because of the way she stayed in character and played her part".
"My favorite scene was Moon and me because the dancers danced with the moon in the audience", says Johnson.
Overall, everyone seemed to give this musical a big thumbs up and enjoyed the laughs and memories of The Addams Family. Maybe one of the main reasons why it was such a hit was because it was more modern than past musicals such as the Wizard Of Oz or even Grease.